Mortgage Loan Officer
Kenny Pitoscia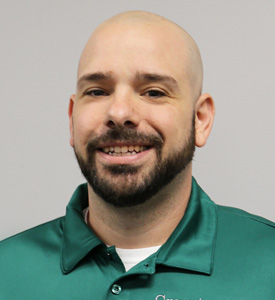 Kenny comes to us with five years of mortgage origination experience. Hailing from the Hospitality and Banking industries, he is both customer oriented and results driven. Before transitioning into mortgages back in 2016, he held multiple sales, analyst and leadership roles. In the past five years he has spent the bulk of his time with banking lenders and last year joined Greentree Mortgage Company, L.P. to concentrate on mortgage lending. Kenny welcomed the access to processing, underwriting, and closing which he found more difficult to obtain at his prior employers. This access helps ensure the customer is provided with the best experience which is what Kenny strives for.
The combination of his hospitality and banking backgrounds allow him to have a deeper connection with our borrowers. With Kenny you will always have a fair shake. His patience and attention to detail are among his best qualities that set him apart from our competition.
Mortgage Calculator
Know exactly how much you can afford, even if you haven't found the perfect home yet.
customer feedback
What do clients say about Kenneth?
Zillow Reviews
Simply the best
Flawless process and top notch execution. Ken is as good as an MLO as it gets and will walk you through everything with quiet ease. I've known him for years and would recommend the man over anyone else.
Available at unexpected times
Kenny was amazing to work with for the six months it took for us to find our home. He was committed to me as a client and made me feel welcome with even no end in sight. He called me when I sent emails at odd hours with no expectation of even a response until the next business day. We worked with my agent to get approval letters for offer submissions beyond business hours and guided me with valuable information that I could trust in an uncertain market. Ultimately he assisted in determining the best time to lock in which was a huge relief. He delivered on every occasion. I would recommend Kenny in the highest regard for going beyond any expectations I could have ever had.
KEN IS THE TRUTH!
Having Ken on your team means big wins and great results! Ken has the ability to not only provide great solutions but can break down a seemingly large or difficult task to just simple math. This experience as second time home buyers has been by far the most educational and life changing experience. Working with Ken, we have gained a whole new perspective on the ins and out of what it takes to successfully and swiftly execute on a great deal. My family and I are so grateful for not just the top teir services that Ken was able to provide during our home buying process; but for the amazing relationship that we've been able to build, in knowing that we have someone in our corner to help us along the way . We 100% recommend working Ken to help close the deal!
High Marks All Around For Kenneth
Kenneth was everything you'd want in someone handling a large part of your financial future: communicative, responsive, trustworthy, friendly, responsible, etc. He comes highly recommended and I've even sent a few friends his way. Thanks for making the process flow so smoothly!
Great Service I highly recommend Ken
What can I say! Ken had every answer I asked, he made himself available regardless of time of day. There were days he wasn't even working and he was flexible enough to answer our questions. He was always in touch just checking in to see how our buying process was going. What really impressed me was his wealth of knowledge in real estate and mortgage loaning. He understood exactly what my family and I were looking for and guided us in the right direction. If it wasn't for Ken's honesty, knowledge and approach I don't think my family and I would be enjoying the house of our dreams right now.
Google Reviews
Kenneth was great and made the whole process super simple from start to finish. Couldn't have asked for better help.
Dan Belton, 2/2022
If it wasn't for Kenneth Pitoscia, I would of been over my head. He was extremely responsive. Would answer my questions immediately even when I would message him at 11pm at night. I actually got rid of q lender who offered a discount if I stayed with him. However, his quality wasn't compared to Kenny's. Look no further! These guys are you lenders.
Alissa Evangelista, 2/2022